A lot of businesses are closing their doors as the Pope makes his way to Philly as he brings a few million out of towners with him. If you haven't heard, the city has been erecting a "box" around center city that you will be able to get out of but won't be able to get into. If you tried traveling around the fairmount area last week you already noticed increased traffic and probably passed at least 1,000 porta-potties.
The Red Zone will be a secret service secured area around the Pope Event
The Black Zone will be closed to all motorized vehicles
Check out a very cool interactive map HERE that also shows the times that everything will be closed.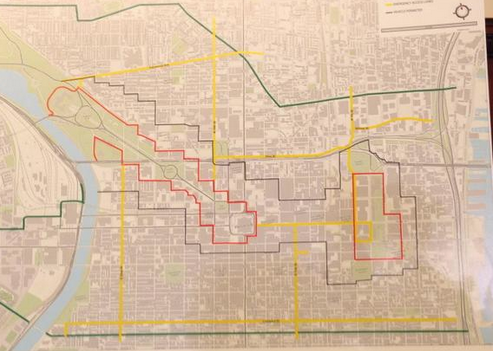 The Good News! We have a list of Small Talk Media clients that will be #OPENINPHL during the Pope Event from Thurs the 24th to Mon the 28th.

Crow and the Pitcher..POPETASTIC SPECIALS!
$10 Pulled Pork Sandwich & Pint…All Week…
BYOB for all the neighbors stuck in the city
Bar open till 2amevery night
Opening at 3pm on Sat
Tacos & Shaved Ice outfront
Open normal business hours
Pope Pub Crawl

Sept 26th

Sunday

Football Specials…$3.75 Miller Lite Drafts & $4 rotating Yards Drafts
Open normal business hours
Pope Pub Crawl

Sept 26th

"Tully is our Holy Water" $5 shots of Tully
Open normal business hours
Football w/$3.50 Bud Lights & $4 Goose Island Drafts

Sunday

Brunch

8am till 3pm
Friday night welcome back Philly College's $20, 3 hour open bar
Open Friday 4pm – 2am, Saturday 12pm – 2am and Sunday 12pm – 2am
Huge Craft beer selection with Delivery available
Football Specials $20 for 15 wings or a Spring roll sampler & a yuengling lager pitcher
Open normal business hours
Football specials $3 Bud Light & Miller Lite Bottles and $4 half dozen wings
Brunch served all week starting Monday and opening at 8am on Sat & Sun
Open normal business hours except Sat & Sun
Open normal business hours
All locations open normal business hours
Open normal business hours
A brand new Cafe that just opened Monday!
Hours 6am – 2am
The bar will be open Saturday and Sunday from 5pm onward, 13 taps of craft beer
The garden will also be open for viewing, come check out the extensions of our space